Greg Black
gjb at gbch dot net
Home page
Blog front page
If you're not living life on the edge, you're taking up too much space.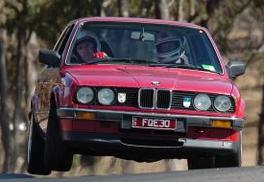 Syndication / Categories

All


Announce


Arts


Books


Cars


Family


House


Meta


People


Places


Random


Society


Software


Technology


Writing

Worthy organisations
Amnesty International Australia — global defenders of human rights

---
Médecins Sans Frontières — help us save lives around the world

---
Electronic Frontiers Australia — protecting and promoting on-line civil liberties in Australia

Blogroll
(Coming soon…)
Software resources



Sun, 15 Nov 2009
Earlier today, I whined about Apple's deletion of the line-in port on my MacBook Pro. Today, while fiddling with sound settings, I discovered by accident that there is a line-in port.
Careful inspection of the case showed only one possible candidate, clearly labelled for audio output. Just for giggles, I plugged in an audio input and told QuickTime to record it and presto, that worked.
It still seems silly to make one receptacle do dual duty, but I can live with that. It seems worse than silly to mislabel it, but at least I now know that it serves two functions. Hopefully, anybody who took any notice of my post yesterday will now know the truth.