Greg Black
gjb at gbch dot net
Home page
If you're not living life on the edge, you're taking up too much space.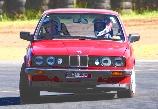 Syndication
Worthy organisations
Amnesty International Australia — global defenders of human rights

---
Médecins Sans Frontières — help us save lives around the world

---
Electronic Frontiers Australia — protecting and promoting on-line civil liberties in Australia

Blogs
(Coming soon…)
Categories
(Coming soon…)
Archives
(Coming soon…)
Software resources


Tue, 06 Jul 2004
Lots of people—sometimes known as "fans"—have been complaining about the dominance of Michael Schumacher and Ferrari in Formula 1 over the past few seasons. No doubt they'll be whining again after a crushing victory last Sunday.
I'm not a "fan", whether it comes to motor sport, music, programming languages or anything else. It's my opinion that fans are idiots. I do love motor sport, both as a spectator at top-level events, and as a participant in events that are suited to my age and budget and other responsibilities.
At Magny-Cours, we had a great chance to watch the best of the best turn a disadvantage into a strength. Clearly, the Ferraris were not as fast as the Renaults. But the Ferrari team kept thinking throughout the race and determined that they could get their man to the front by changing to a very aggressive four stop strategy rather than the three stop approach adopted by everybody else. All it required was that Michael be able to turn in ten stunning laps at the right time. They told him when to push; he pushed; they made up the time and used their lighter fuel load and fresher tyres to brilliant effect and so stole the race from the Renault. No other driver could have done it; no other team showed the ability to respond to changing circumstances as well. They deserved to win and it was great to watch them do it.
While I agree that it can be boring to watch evenly-matched second-tier drivers and cars engaged in processional racing, I have to say that I just love watching the very best doing their job at the highest standard. I'll be sorry when Michael retires.