Greg Black
gjb at gbch dot net
Home page
If you're not living life on the edge, you're taking up too much space.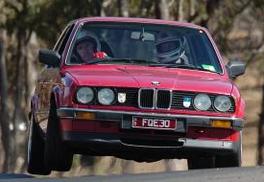 Syndication
Worthy organisations
Amnesty International Australia — global defenders of human rights

---
Médecins Sans Frontières — help us save lives around the world

---
Electronic Frontiers Australia — protecting and promoting on-line civil liberties in Australia

Blogs
(Coming soon…)
Categories
(Coming soon…)
Archives
(Coming soon…)
Software resources


Mon, 13 Sep 2004
Last night's Formula 1 race at Monza was pretty exciting, helped out by a spin by Michael Schumacher on a wet second corner which put him at the tail of the field and left him well back in 15th place at the end of the first lap while Rubens Barrichello romped away by several seconds per lap for the few laps where his intermediate tyres were superior.
Michael was then forced to make a serious effort to work his way back through the field, and he was mighty to watch as he set about this. Some of the slow-motion shots of the two Ferraris bouncing over the kerbs in the chicanes were brilliant. In the end, Michael caught Rubens easily, and if he had not already won the world championship, I'm certain that he would have gone past. As it was, he eased off and rewarded Rubens for his loyal service and ensured yet another Ferrari one-two.
The only real puzzle for me was the comments by the "experts" who expressed surprise that Michael was able to come back from the back of the field—I wonder what universe they have been living in?