Greg Black
gjb at gbch dot net
Home page
If you're not living life on the edge, you're taking up too much space.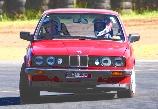 Syndication
Worthy organisations
Amnesty International Australia — global defenders of human rights

---
Médecins Sans Frontières — help us save lives around the world

---
Electronic Frontiers Australia — protecting and promoting on-line civil liberties in Australia

Blogs
(Coming soon…)
Categories
(Coming soon…)
Archives
(Coming soon…)
Software resources


Tue, 06 Jul 2004
Finally, after a year of having a car that needed something fixed, I had an almost trouble-free day at Morgan Park on Sunday. It was a full day event, run as a driver training day and very well organised by the BMW Club Qld.
As always at such events, the early part of the day was focused on providing a safe introduction to the race track environment for those who were new to it. And, apart from providing expert instructors for those who needed tuition, there were also plenty of opportunities for people to have rides in the faster cars to get an idea of what it feels like to travel at speed on a track and to watch good drivers at work at speed.
A highlight of the day for me was a late session when I went out with a passenger—intending to give him a couple of hot laps and then drop him off so that I could do a few laps on my own. I found myself not far behind one of the faster cars, Greg Lee's very powerful M6, with Greg in the passenger seat and racer Simon Harrex driving. This was too good to miss, so I set out after Simon who spotted me coming and started to get serious. It was great to watch the M6 being pounded around the tight corners and then to watch it pull away on the straights. My car was faster overall, but I had to wait for Simon to wave me past on the back straight. By then, there was a good crowd on the pit wall watching our little effort.
Once I was in front, Simon started putting on a show behind me. He had the big BMW sliding sideways through the hairpins, smoke pouring off all four tyres. It looked spectacular in the mirrors, although my passenger seemed to be too busy watching where we were going to get much of a view out the back. I hope somebody got some pictures. My car spent quite a bit of time on three wheels and some time on two wheels and the M6 just looked mean.
Once we were given the "last lap" signal, we brought the cars back into the pits, took off our helmets and we all had huge grins on display. That was just great. But the whole day was fun. That track is a real challenge, with lots of different turns, only two short straights, and plenty of run-off for those who make mistakes.
My new tyres, a harder compound than the previous set in the interest of getting a bit more life out of them, worked pretty well. They did not turn in as well as the softer tyres, but were nice and consistent under brakes and through the corners. The car was so well-behaved that I did not put a foot off the black stuff the entire day, despite some pretty spirited driving—and in marked contrast to the last outing with completely worn-out tyres. Much to my surprise, I only managed to do 56 km on the track, no doubt due to the large number of people we had on the day. And even that short distance took 0.7mm off the 5mm tread on the tyres. At that rate, I won't get 500 km out of them. At $1400 a set, that's going to be expensive. Ouch.
I mentioned at the start of this that the day was "almost trouble-free". The trouble showed up early when I noticed exhaust noise which turned out to be a side effect of the fix done after the last track day. A pipe broke then and the system had to be removed in order to be welded up. The workers then failed to tighten up the four bolts on the flanges between the pipes and the headers. Why can't people do simple jobs right?