Greg Black
gjb at gbch dot net
Home page
If you're not living life on the edge, you're taking up too much space.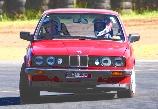 Syndication
Worthy organisations
Amnesty International Australia — global defenders of human rights

---
Médecins Sans Frontières — help us save lives around the world

---
Electronic Frontiers Australia — protecting and promoting on-line civil liberties in Australia

Blogs
(Coming soon…)
Categories
(Coming soon…)
Archives
(Coming soon…)
Software resources


Mon, 17 May 2004
This should be entitled "At Last", given that it's taken me nine months to progress from talking about writing a blog to doing it. But, since the original inspiration was AJ's indolence log, and since most of the harassment aimed at getting me started came from AJ at HUMBUG meetings, it seemed only fair to give him the first title in this thing. The wording is AJ's—as scribbled on my notepad just over a week ago—and does not imply endorsement of the things he writes, especially the stuff he's wrong about. On the other hand, I find most of his writing to be interesting and often thought-provoking.