Greg Black
gjb at gbch dot net
Home page
If you're not living life on the edge, you're taking up too much space.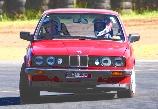 Syndication
Worthy organisations
Amnesty International Australia — global defenders of human rights

---
Médecins Sans Frontières — help us save lives around the world

---
Electronic Frontiers Australia — protecting and promoting on-line civil liberties in Australia

Blogs
(Coming soon…)
Categories
(Coming soon…)
Archives
(Coming soon…)
Software resources


Mon, 17 May 2004
I hate "normal" web display, so I was pleased when AJ mentioned SmartyPants as it looked like the solution to my concerns about presentation of stuff like quotes and dashes, at least.
It turns out to be a mixed blessing. As far as I can see, Mozilla displays the mutilated text correctly on screen. However, it does not allow for cutting and pasting from a selection that includes smart quotes, etc. Nor does it print the pages properly. What to do? My current feeling is that the suckage will probably get better in time and that probably nobody will want to print this stuff.
That leaves the problem of situations when people might want to cut and paste a couple of sentences to quote somewhere. Often, that will work anyway, as there won't be problems in every paragraph. Where there are issues, I guess people will either complain; or work around it—either by careful cutting and pasting, or by saving the source and extracting what they want with their editor of choice; or else they'll complain to me. I think I'll wait and see.