Greg Black
gjb at gbch dot net
Home page
Blog front page
If you're not living life on the edge, you're taking up too much space.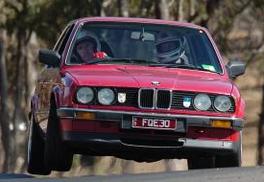 Syndication
Worthy organisations
Amnesty International Australia — global defenders of human rights

---
Médecins Sans Frontières — help us save lives around the world

---
Electronic Frontiers Australia — protecting and promoting on-line civil liberties in Australia

Blogs
(Coming soon…)
Categories
(Coming soon…)
Archives
(Coming soon…)
Software resources


Sun, 23 Jan 2005
We went for a drive to Woody Point this afternoon. Using the Inner City Bypass, the trip is now much shorter; we got to Woody Point in just 30 minutes. From there, we continued along the marked tourist drive to Redcliffe, where we stopped and did a 3km walk along the waterfront. Things have changed a lot there in the few years since we last had a look. Overall, the development of parks, pools, trees, picnic areas, etc., is great. And we liked the development of eating places and the like. No wonder there is so much building going on there now.
After our walk, we drove further out and stopped at Morgan's for some excellent fish and chips, which we ate sitting in the shade where we could watch the boats and birds and people. Then we followed the tourist drive around until it hit the main road and turned around and retraced out tracks to Woody Point. There we stopped at the old pub and had a drink looking across the water. Then we headed back home via the fruit shop where we picked up something healthy for dinner.
The minor downsides were getting covered in shit on the way out as we were overtaken by a high speed cattle truck on the Gateway Motorway. He sat in front of us for about 3km and on every curve, a lovely brown shower poured out of the truck and over us. And, on the way to the car wash near home, we were stopped for a random breath test. There was no drama with the test, but it was being run by a lone cop who was stopping every car, so we had quite a wait for our turn. Still, it was a nice Sunday afternoon. We should do more of this.