Greg Black
gjb at gbch dot net
Home page
If you're not living life on the edge, you're taking up too much space.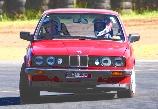 Syndication
Worthy organisations
Amnesty International Australia — global defenders of human rights

---
Médecins Sans Frontières — help us save lives around the world

---
Electronic Frontiers Australia — protecting and promoting on-line civil liberties in Australia

Blogs
(Coming soon…)
Categories
(Coming soon…)
Archives
(Coming soon…)
Software resources


Tue, 20 Jul 2004
The dealer told me at 1630 that they could not get my car fixed before tomorrow afternoon. Not ideal, but there was little I could do. Then they rang at 1710 and said, "can you get here by 1730?" Amazing how fast they got the rest of the work done. Anyway, I said I could probably get there ten minutes after they closed if I had luck with a cab and so they said they'd wait for me. Cool. And when I got there, they handed me an invoice for $0.00—apparently it was felt that the alternator should not have failed on a car that had only done 130,000 km. I couldn't agree more. Still, it was good to see that they could get it done the same day and that they were ready to do the job for free, on their own initiative. Thanks, guys. I suppose they deserve a credit: Sivyer's at Moorooka.