Greg Black
gjb at gbch dot net
Home page
If you're not living life on the edge, you're taking up too much space.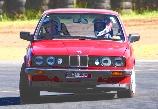 Syndication
Worthy organisations
Amnesty International Australia — global defenders of human rights

---
Médecins Sans Frontières — help us save lives around the world

---
Electronic Frontiers Australia — protecting and promoting on-line civil liberties in Australia

Blogs
(Coming soon…)
Categories
(Coming soon…)
Archives
(Coming soon…)
Software resources


Tue, 20 Jul 2004
So I heroically drag myself out of my sick bed this morning to drive my wife to her office only to have the preferred car ignore all attempts to open it, either by its remote or with a key in the door. After I take Chrissie to work in my sister's car, I call the dealer and describe the problem and offer my diagnosis which is that the battery is obviously flat and, since it's new, there's probably a fault in the charging system. "Oh no, it's nothing like that," says the expert. "It's the locking bar in the door—they fall off and you get locked out." This sounded wrong to me, but either way the car had to be towed to the dealer.
It was in the garage. It was locked. The handbrake was on and the transmission was in "park". The street is narrow and divided, so there's almost no room to manoeuvre a tow truck in front of the garage. The two favourable details were that the steering was locked in the straight-ahead position and the locked wheels were at the street end of the garage. I called the RACQ, explained all the above and asked them to send a suitable truck.
The tow truck arrived promptly and was indeed suitable. But the driver admitted that he'd only been on the job a few days and he'd never tackled a job like this. He was a pleasant young man, but it took quite a bit of guidance from me before he got the car up on the truck—just over an hour to load it.
I had asked the dealer to call me when they had diagnosed the problem so that I could plan the rest of my day. They promised to do that. Naturally, they didn't call. I rang them at 1215, two hours after the car would have arrived and asked for an update.
The bloke who was supposed to be my contact was out, so I had to speak to a young woman with an attitude instead. "Your car needs an alternator and a battery," she said. That, at least, was no surprise. "So when will it be ready?" I asked. "I can't tell you." "Is there some problem?" "You haven't given us the authority to purchase the parts and if you don't do that before 1230, you can't get it done today." "I sent it over there to be fixed; so yes, I would like you to order the parts." This was greeted by some muttering that's not worth reporting in detail and she ended up saying that the previously-mentioned bloke would call me when they had a pickup time.
I'm probably a bit hard to please today, what with the flu and the other stuff that's going on, but somehow this little story left me feeling rather cross. Had I left it another few minutes before I called them, I'd have been punished with having to wait an extra day to get it back. And that's despite being a regular customer and despite their assurance that they'd call me once they'd checked the car. Grumble.