Greg Black
gjb at gbch dot net
Home page
If you're not living life on the edge, you're taking up too much space.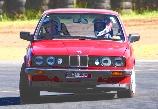 Syndication
Worthy organisations
Amnesty International Australia — global defenders of human rights

---
Médecins Sans Frontières — help us save lives around the world

---
Electronic Frontiers Australia — protecting and promoting on-line civil liberties in Australia

Blogs
(Coming soon…)
Categories
(Coming soon…)
Archives
(Coming soon…)
Software resources


Wed, 02 Jun 2004
We recently paid a kitchen company a lot of money to put in a new kitchen. Part of the job included $250 for the installation of a range hood that we supplied. Chrissie has been complaining that the range hood is not doing as good a job as it ought, given its price.
I've just dismantled it and discovered why. The plumber failed to read the instructions. I know this because the instructions were still inside the unit, doing a pretty fair job of blocking the airflow and collecting a nice load of grease in the process.
Sometimes you get what you pay for; sometimes you don't.