Greg Black
gjb at gbch dot net
Home page
If you're not living life on the edge, you're taking up too much space.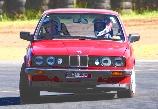 Syndication
Worthy organisations
Amnesty International Australia — global defenders of human rights

---
Médecins Sans Frontières — help us save lives around the world

---
Electronic Frontiers Australia — protecting and promoting on-line civil liberties in Australia

Blogs
(Coming soon…)
Categories
(Coming soon…)
Archives
(Coming soon…)
Software resources


Mon, 17 May 2004
When I was in Shepparton a couple of months back for the 2004 Grand Prix Rally, I shared a motel room with my co-driver. One evening, I looked out the window across the main drag and noticed a large sign above a shop that said, "Sad New World". Surprised by this, I called Andrew over to see it. Closer inspection and careful peering around the large horse on a stick that adorned the footpath in front of the shop revealed that the sign really said, "Saddlery World". Since then, I've used "sad new world" as a shorthand for perceptual glitches of this kind.