Greg Black
gjb at gbch dot net
Home page
If you're not living life on the edge, you're taking up too much space.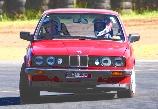 Syndication
Worthy organisations
Amnesty International Australia — global defenders of human rights

---
Médecins Sans Frontières — help us save lives around the world

---
Electronic Frontiers Australia — protecting and promoting on-line civil liberties in Australia

Blogs
(Coming soon…)
Categories
(Coming soon…)
Archives
(Coming soon…)
Software resources


Mon, 31 May 2004
Took Chrissie to the Stamford Plaza in Brisbane for the weekend for her birthday. We've both stayed at lots of five-star hotels in Australia and many other countries, but this place provided the best mix of quality accommodation, good food and really excellent service that we've experienced. All the staff that we dealt with were well-trained and seemed keen to make a good impression, attending to all the little details with a smile and unfailing courtesy.
The star of the show was Ian, our room-service person. He was exemplary in every possible way and would, on his own, be a reason to return. When we mentioned his performance at checkout time, we were told that he had worked there forever and was highly regarded—so it was good to see that his contribution was recognised.
The single, rather minor, criticism was that they billed us for some free telephone calls at 90 cents per call—something that other hotels have never done. When challenged, they took the offending charges off the bill, but told us not to expect that in the future. Still, with this the only flaw in the weekend, I think we'll be back before too long.