Greg Black
gjb at gbch dot net
Home page
If you're not living life on the edge, you're taking up too much space.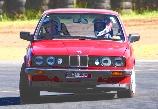 Syndication
Worthy organisations
Amnesty International Australia — global defenders of human rights

---
Médecins Sans Frontières — help us save lives around the world

---
Electronic Frontiers Australia — protecting and promoting on-line civil liberties in Australia

Blogs
(Coming soon…)
Categories
(Coming soon…)
Archives
(Coming soon…)
Software resources


Sat, 10 Jul 2004
I have previously mentioned that my mother was near death. She passed away yesterday afternoon. The only surprise was that she lasted so long. She lost the ability to recognise family members some years ago and gave up speech not long after.
Much of the past 24 hours has been involved with the minutiae of death—arranging stuff, informing people, making sure that those who have to travel furthest are given time to get to the funeral.
And there's been a bit of the inevitable reflecting on the fact that I only have a limited span left. I'm OK with that, but I'm keen to make the next thirty or so years count. By which I mean that I don't want to waste my time engaged in pursuits that I don't care about and I don't want to get to the end wishing that I had found time for something that ended up left undone.
This place will probably be quieter than usual for a while now while I travel to Melbourne, do my dutiful son routine and fend off the various relatives who will no doubt find fault with my care for my mother in her final years. That won't be a surprise either; my plan is to try to let it go by without becoming engaged. I might even succeed.