Greg Black
gjb at gbch dot net
Home page
If you're not living life on the edge, you're taking up too much space.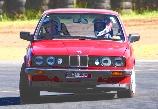 Syndication
Worthy organisations
Amnesty International Australia — global defenders of human rights

---
Médecins Sans Frontières — help us save lives around the world

---
Electronic Frontiers Australia — protecting and promoting on-line civil liberties in Australia

Blogs
(Coming soon…)
Categories
(Coming soon…)
Archives
(Coming soon…)
Software resources


Sun, 11 Jul 2004
Ben Fowler recently directed my attention to The Political Compass, a site that offers an anonymous test of one's political position in a more useful fashion than the old and rather simplistic left/right approach.
I found it a useful tool, although I would have preferred to see a "don't care" option in the answers. Their FAQ—which they recommend reading after taking the test, so I won't link to it here—provides a perfectly valid explanation for this decision; nevertheless, I would have liked such an option for a tiny minority of questions. Despite that, I doubt if my score would have changed in any significant way if such an option had been provided.
I think it's well worth visiting this site and taking their test.
For the record, my scores were -7.88 on the economic (or left/right) axis and -7.49 on the social (or libertarian/authoritarian) axis. This fits pretty well with my expectations.