Greg Black
gjb at gbch dot net
Home page
Blog front page
If you're not living life on the edge, you're taking up too much space.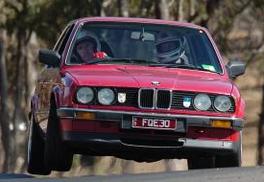 Syndication / Categories

All


Announce


Arts


Books


Cars


Family


House


Meta


People


Places


Random


Society


Software


Technology


Writing

Worthy organisations
Amnesty International Australia — global defenders of human rights

---
Médecins Sans Frontières — help us save lives around the world

---
Electronic Frontiers Australia — protecting and promoting on-line civil liberties in Australia

Blogroll
(Coming soon…)
Software resources



Fri, 21 Apr 2006
Was it the pink Playboy bunny or the glittering earrings that first got my attention?
I think it was the sun shining on the earrings that did it. Then I saw the bunny swinging about happily in the middle of the rear window of the car in front and thought, "Wow, it's going to be hard to see anything in the mirror."
And then I saw that the mirror was not going to be troubled by the bunny at all, as it was aimed directly at the blonde's face so that she could do her makeup once she finished eating her breakfast with one hand while she drove her phone with the other.
I was surprised that she made it around the bends in Coronation Drive with only minor excursions into the lanes either side of her and quite relieved that the lane for the oncoming traffic had a small break at the point where she used it.
No doubt this is further proof that it's only speed that causes accidents, as this sample of completely incompetent and inattentive driving had no adverse consequences other than to my peace of mind.