Greg Black
gjb at gbch dot net
Home page
Blog front page
If you're not living life on the edge, you're taking up too much space.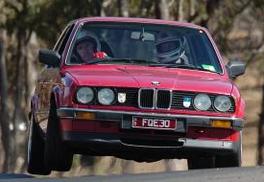 Syndication / Categories

All


Announce


Arts


Books


Cars


Family


House


Meta


People


Places


Random


Society


Software


Technology


Writing

Worthy organisations
Amnesty International Australia — global defenders of human rights

---
Médecins Sans Frontières — help us save lives around the world

---
Electronic Frontiers Australia — protecting and promoting on-line civil liberties in Australia

Blogs
(Coming soon…)
Archives
(Coming soon…)
Software resources


Wed, 29 Jun 2005
Chrissie has offered to host an Italian colleague (and his family) when he visits Australia shortly to conduct a series of workshops and seminars. And that means that it's now almost too late for me to get the renovation jobs completed that I had promised, so the lack of recent blogging will continue for a bit after one small effort today. I've drawn up a list of the jobs to be done and allocated tasks to the available days—and I'm going to be pretty busy. The good part of this is that we're now getting close to the end of this very long project and it will only take a couple more efforts to get it finished. Maybe next year.
Tue, 21 Sep 2004
I've been happily in denial over the onrushing approach of old age, but this afternoon it got hard. I've now finished painting the downstairs bathroom, but my preferred painting arm cried enough shortly before the end. Fortunately, I have always been in the habit of using my left hand to paint fiddly stuff that is hard to reach with my right hand, so it was not too hard to let the left hand finish the job.
At least Chrissie thinks the result looks great—better than she was expecting, I think. So there remain just a few small jobs to be done before the weekend, and then I can relax while the guests are here. Of course, this recent bout of work on the house will increase pressure to finally finish it off, but I'll worry about that later …
Sat, 11 Sep 2004
That means I've now undercoated the cornices and ceiling and it's all a nice shade of white—clean, smooth, and good enough for the guests. Tomorrow, I'm having a day off. On Monday morning, I'll watch the Italian Formula 1 Grand Prix; and, in the afternoon, I'll start painting the downstairs bathroom. So far, I'm exactly on target with this job and it looks as though I'll even get to take a break during the few days I allowed for things going wrong …
Mon, 06 Sep 2004
I may have overstated it slightly, but the kitchen looks a whole lot better now that the holes in the ceiling are no more and the cornices are up along the two walls that were missing them. When Chrissie said it looked great, I tried suggesting that we could leave it like that for a few months—but that fell on rather deaf ears. The next steps will be to do some light sanding and some judicious application of gap filler; and some nails will have to be punched and filled too; and then it'll be ready to paint …
Sat, 04 Sep 2004
I'm feeling pretty virtuous now after putting in a few hours on the downstairs bathroom—finished the missing wall, re-routed some wiring and fitted new light switches, and framed the second window. Chrissie gave me an ultimatum last week that involved finishing the bathroom and kitchen before her house guests arrive in a couple of weeks. I think we've redefined "finish" to mean "make respectable" in the case of the kitchen—that will still require patching the various holes in the ceiling where the old lights were removed, fitting cornices to the two walls that lack them and at least getting a white undercoat onto the ceiling. The bathroom will probably have to be finished, except for the big mirror—but the sanding of the new ceiling, patching the cornices, punching and filling the nail holes in the walls, and painting the whole shebang will take me a while.
Then there will be the Family Therapy Conference, which is what the guests will be here for. That will be followed by our trip to Townsville—I'm just going up for fun, but Chrissie will be teaching for UQ for part of the time. And we'll need to have some new technology setup to deal with our email while we're away. None of this is hard, but time's running out. And I did want to play with the car again soon, but perhaps that will have to wait a little …