Greg Black
gjb at gbch dot net
Home page
Blog front page
If you're not living life on the edge, you're taking up too much space.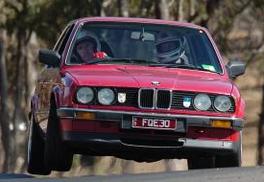 Syndication / Categories

All


Announce


Arts


Books


Cars


Family


House


Meta


People


Places


Random


Society


Software


Technology


Writing

Worthy organisations
Amnesty International Australia — global defenders of human rights

---
Médecins Sans Frontières — help us save lives around the world

---
Electronic Frontiers Australia — protecting and promoting on-line civil liberties in Australia

Blogs
(Coming soon…)
Archives
(Coming soon…)
Software resources


Fri, 30 Sep 2005
I note that the ABC News cites Labor's Kevin Rudd, commenting on a proposal for voluntary voting, as saying: "Voluntary voting … I just think we don't want to Americanise our system here."
This strikes me as astonishing—there are good reasons to argue against voluntary voting (although I don't find them convincing myself), but to advance a silly argument like that shows a complete lack of serious thought. The ALP surely needs a few spokescreatures with some decent ideas and the ability to put those ideas across effectively.