Greg Black
gjb at gbch dot net
Home page
Blog front page
If you're not living life on the edge, you're taking up too much space.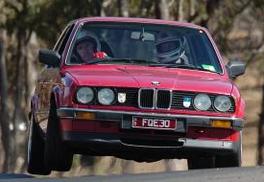 Syndication / Categories

All


Announce


Arts


Books


Cars


Family


House


Meta


People


Places


Random


Society


Software


Technology


Writing

Worthy organisations
Amnesty International Australia — global defenders of human rights

---
Médecins Sans Frontières — help us save lives around the world

---
Electronic Frontiers Australia — protecting and promoting on-line civil liberties in Australia

Blogs
(Coming soon…)
Archives
(Coming soon…)
Software resources


Fri, 16 Sep 2005
The blocks around our place are mostly double wide and double deep—or they were before dividing blocks into smaller chunks became popular. As a result, the street numbering in our street skips every second number to allow for later sub-division. Our house is number 31. There is no 33. Our nutty neighbours are in 35. There is no 37.
Obviously, if our block was divided, 33 would spring into existence. If their block was divided, 37 would do the same.
But the nutty neighbours think that just means that their house, which is on a standard block (for this street), should be number 33 and number 35 and number 37. As evidence, they have painted the three numbers on their letter box.
When the new phone books were delivered, the helpful delivery people stacked three of them on the fence. This inspired the junk mail and local newspaper crowd, who proceeded to pile up three sets of everything as well.
Shortly after I first admired all this fine work, it got windy and stuff was scattered about nicely. Then it rained …